The weather in Tokyo is so hot in Summer, it's crazy. It's not an exaggeration, it's like betting your life when you walk around under this temperature and humidity.
Ah, it is no matter what to choose any clothes under the sunlight…
At the outside of the sea, it was 42 degrees in Paris and 38 degrees in London. Wow! Wow…however it was not somebody else's problem, I was not a spectator, because I visited London in the heatwave days. The underground was quite uncomfortable, no place to hide from heats.
By the way, we(as foreigners) can't keep eyes off the movement about the isle that the UK actually faces weather it goes out from Union just now(or…not?)
I visited a shop at the East End of London, their business is standing up for themselves in this unstable political and economic situation or commercial practices in fashion.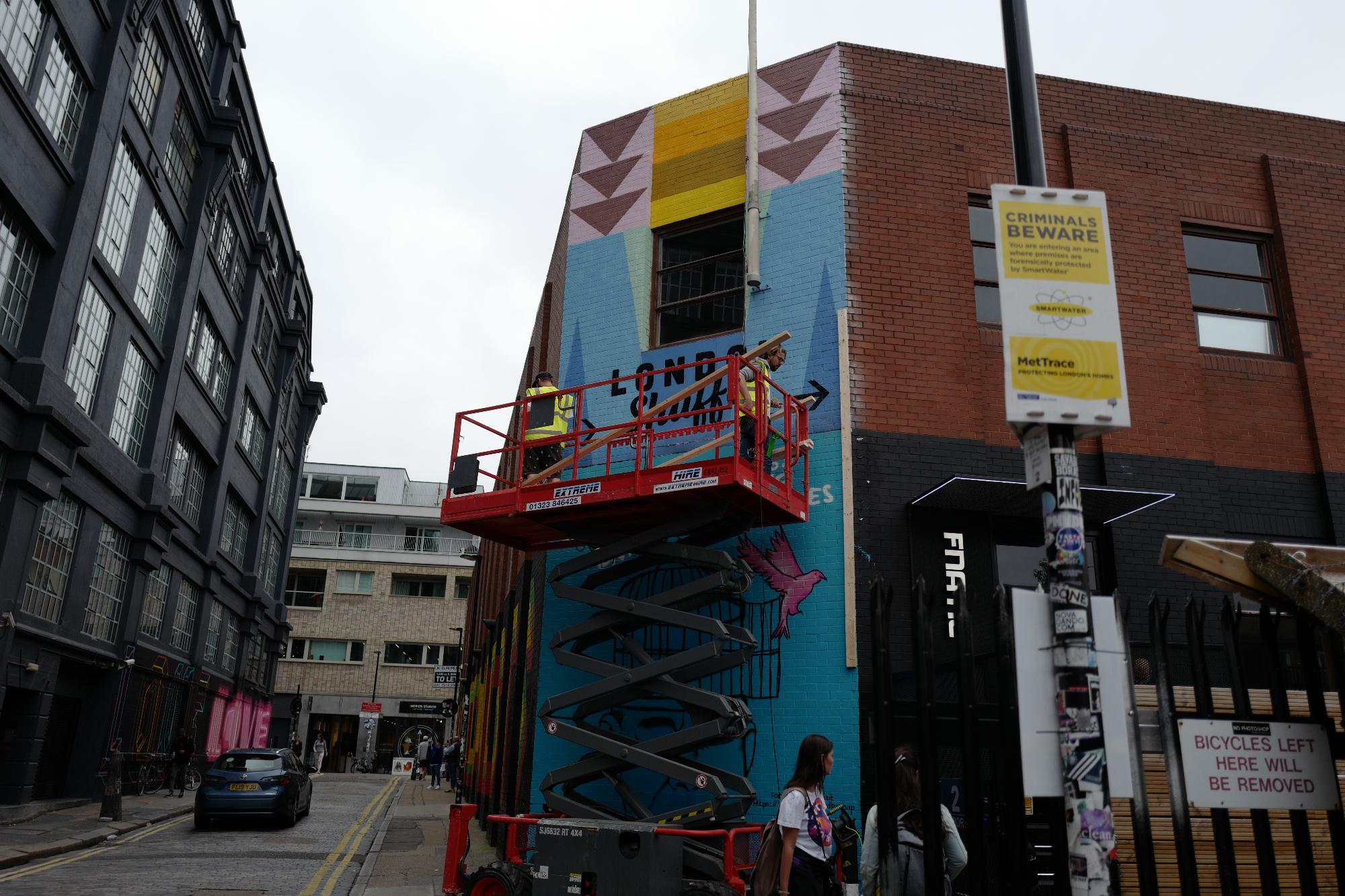 S.E.H Kelly is a menswear label that started in 2009, they create classical coats, shirts, trousers, knitwears and some accessories, using only British textiles and factories.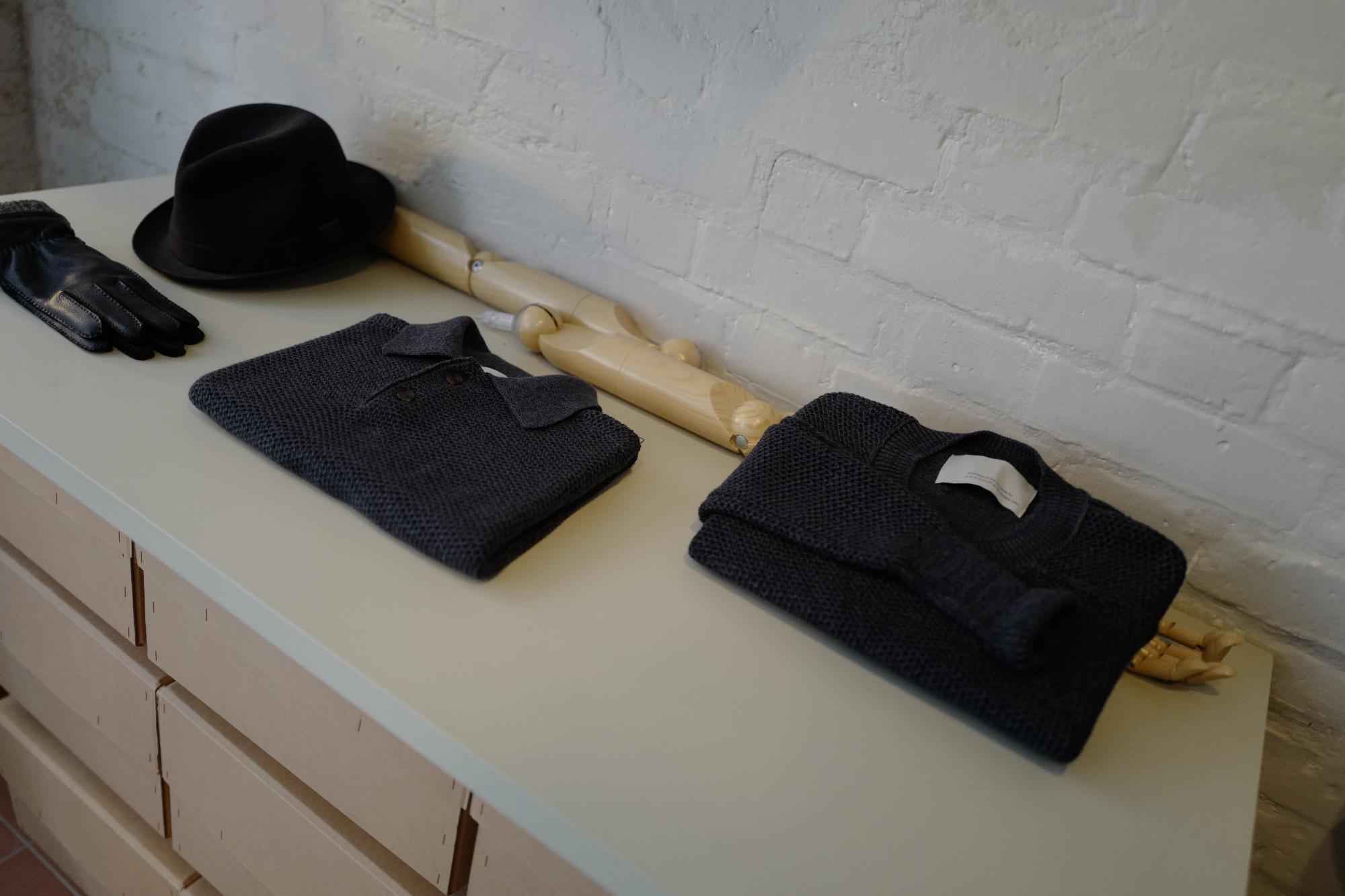 I am a fan of their work, so I know some things that have changed in recent years, for example, cotton Ventile fabric which was mainly used for their coats that stopped taking due to moving mill's production to abroad and took a rest for sales to their retails.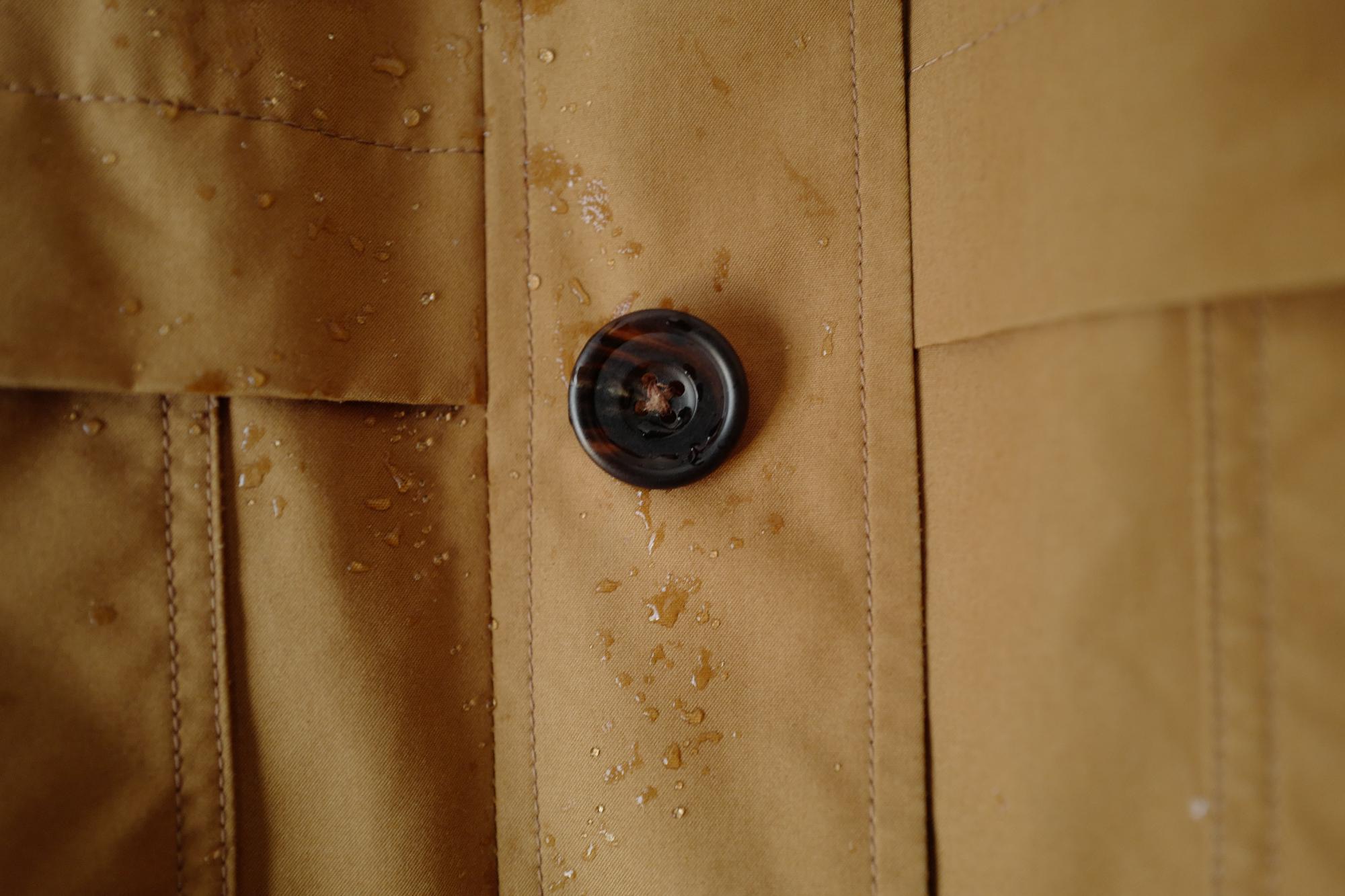 Car coat in cotton Ventile.
In this situation, their work is like surrounded by fog for foreign people except for their online. Therefore I asked them some questions after I'd visited.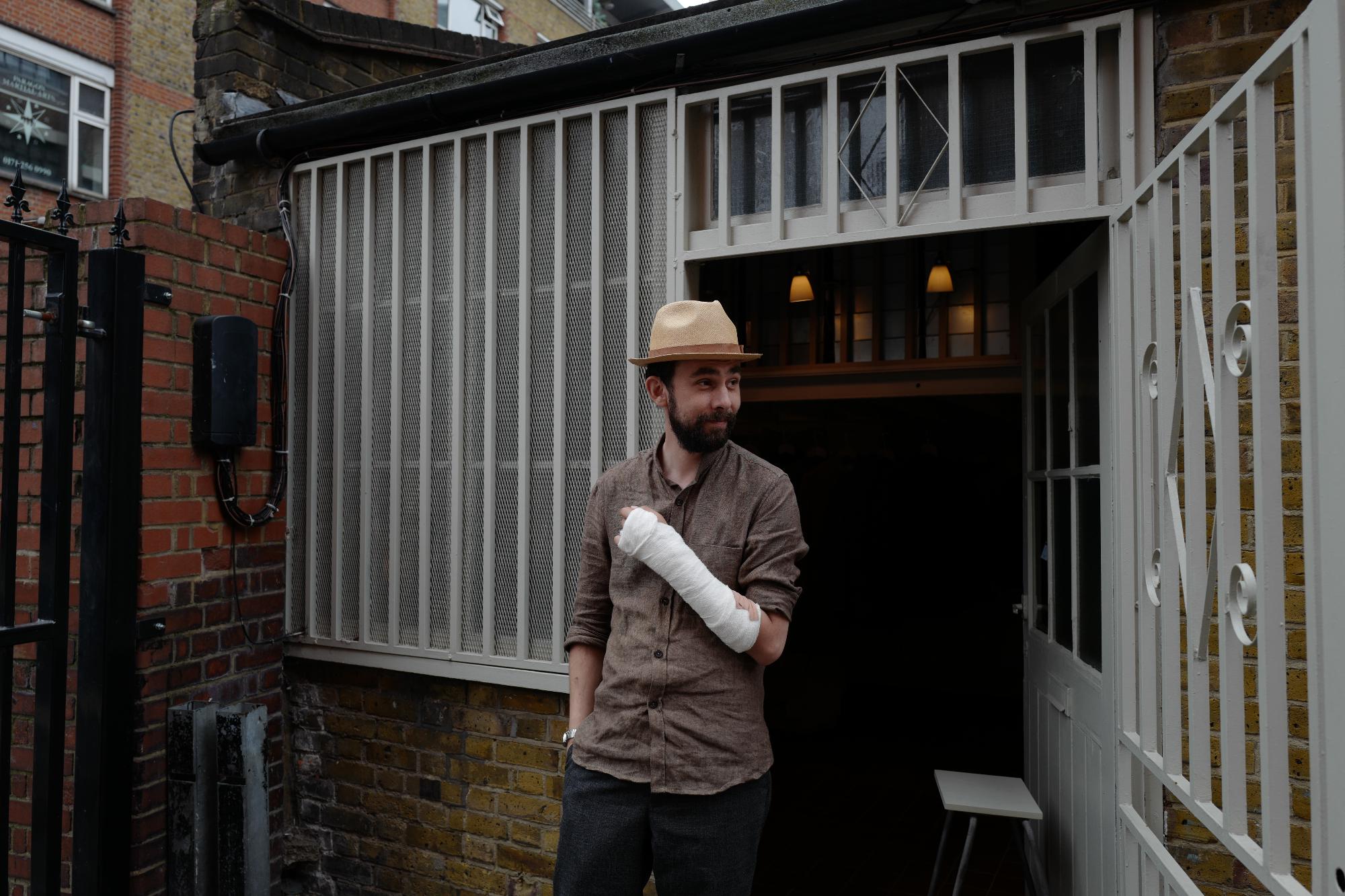 Mr. Paul, the answerer of these questions, founder of company and designer from Manchester.
It passed a decade from starting your label, what is motivating you to continue?
Simply the love of clothing. Making it, talking about it, thinking about it. It is an endless journey and the research and education never stops.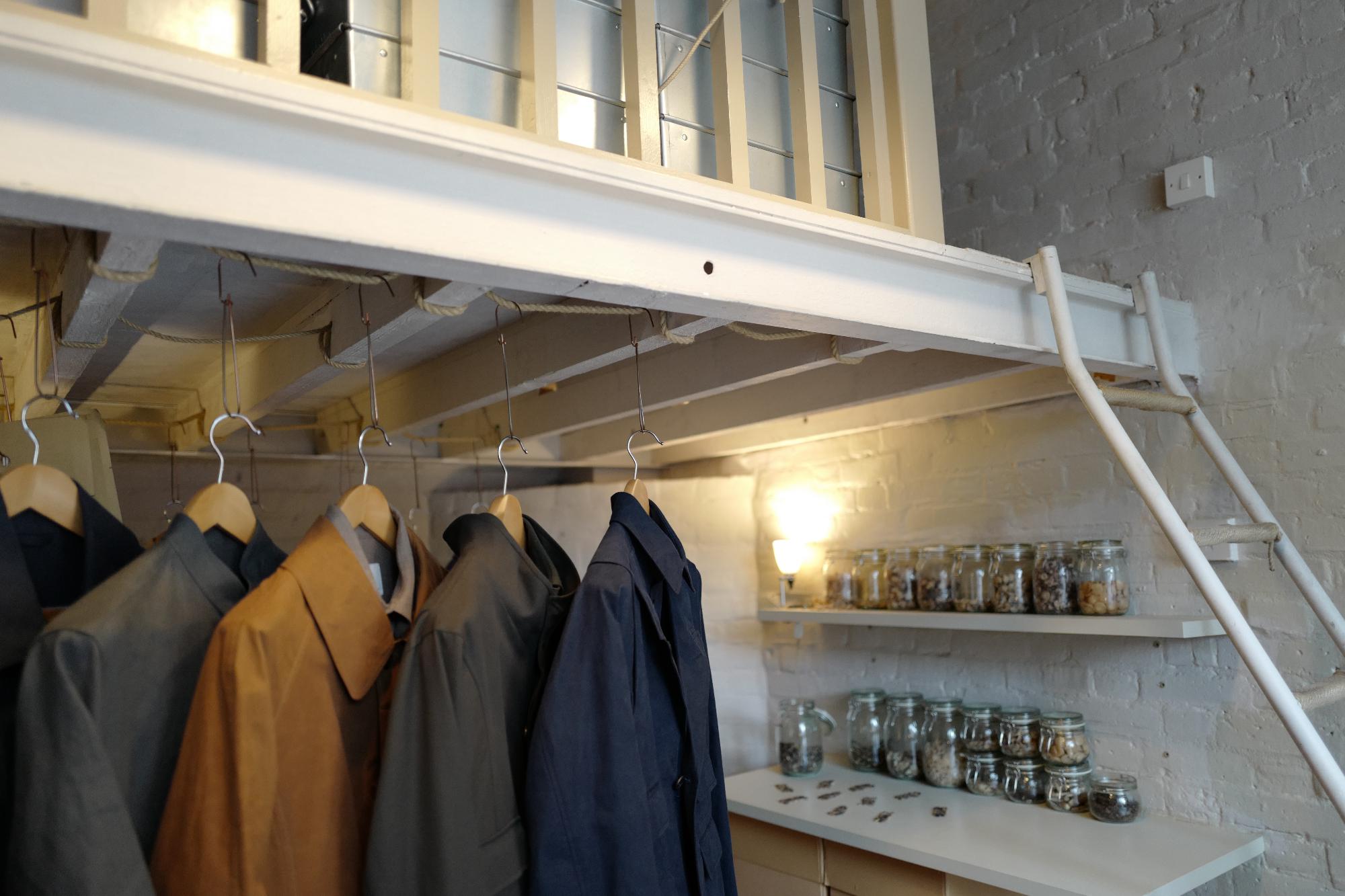 What is the difference between the founding era and now?
The core is exactly the same, but the collection is bigger, and we have a clearer sense of design and self-image.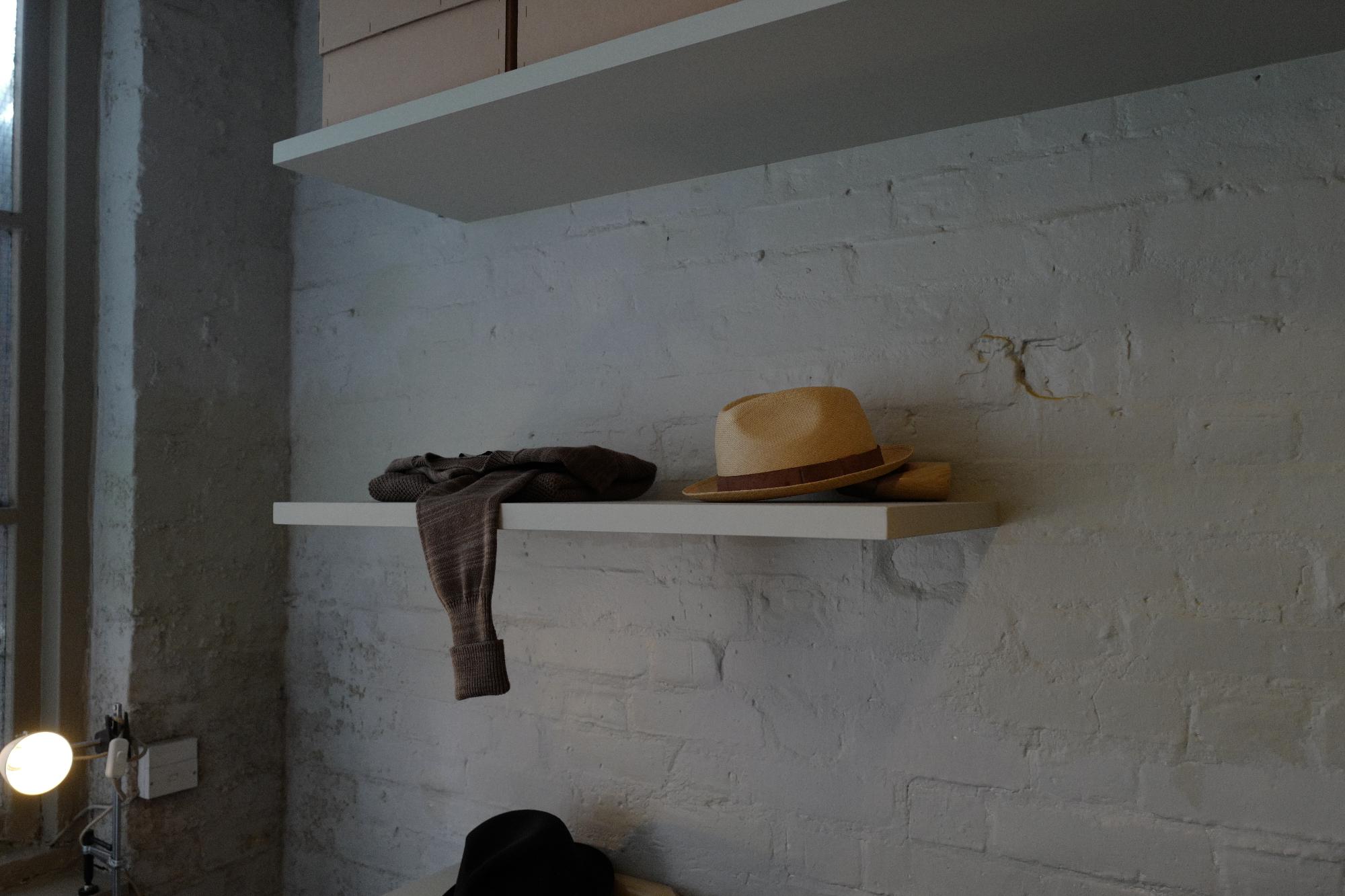 Where does the design come from?
We try to build a collection which has one good version of every classic style. Each year we create one or two styles, and continue to refine and tweak existing ones. The designs come from our heads, and we put a focus upon function, simplicity, and a small amount of fun. We value originality highly, so try to do something new and interesting every time. Only when a design has all those qualities, and fits comfortably and usefully into the collection, do we qualify it as ready, and move it out of our heads onto paper.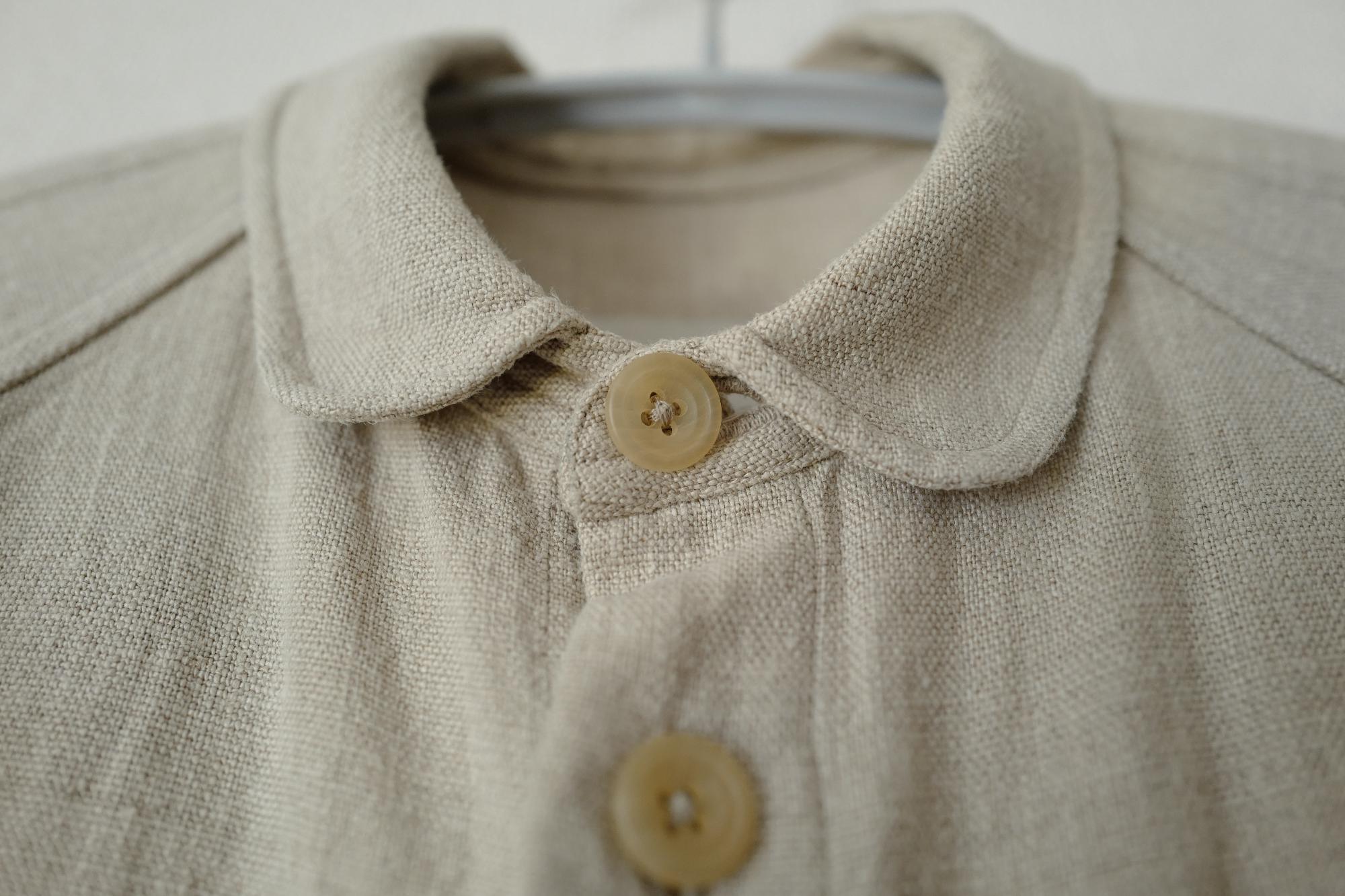 Raglan sleeve shirt which is made of thick linen. And horn buttons sorted only cream colour due to suiting to the textile.
Do you apply any trends in your work?
Trends help to showcase new ways of wearing things, bring back old ideas, mix old and new, good and bad, so they are good to stimulate new thoughts. We don't follow them or try to set them, but since we are surrounded by them it is a good idea to look at them every now and then.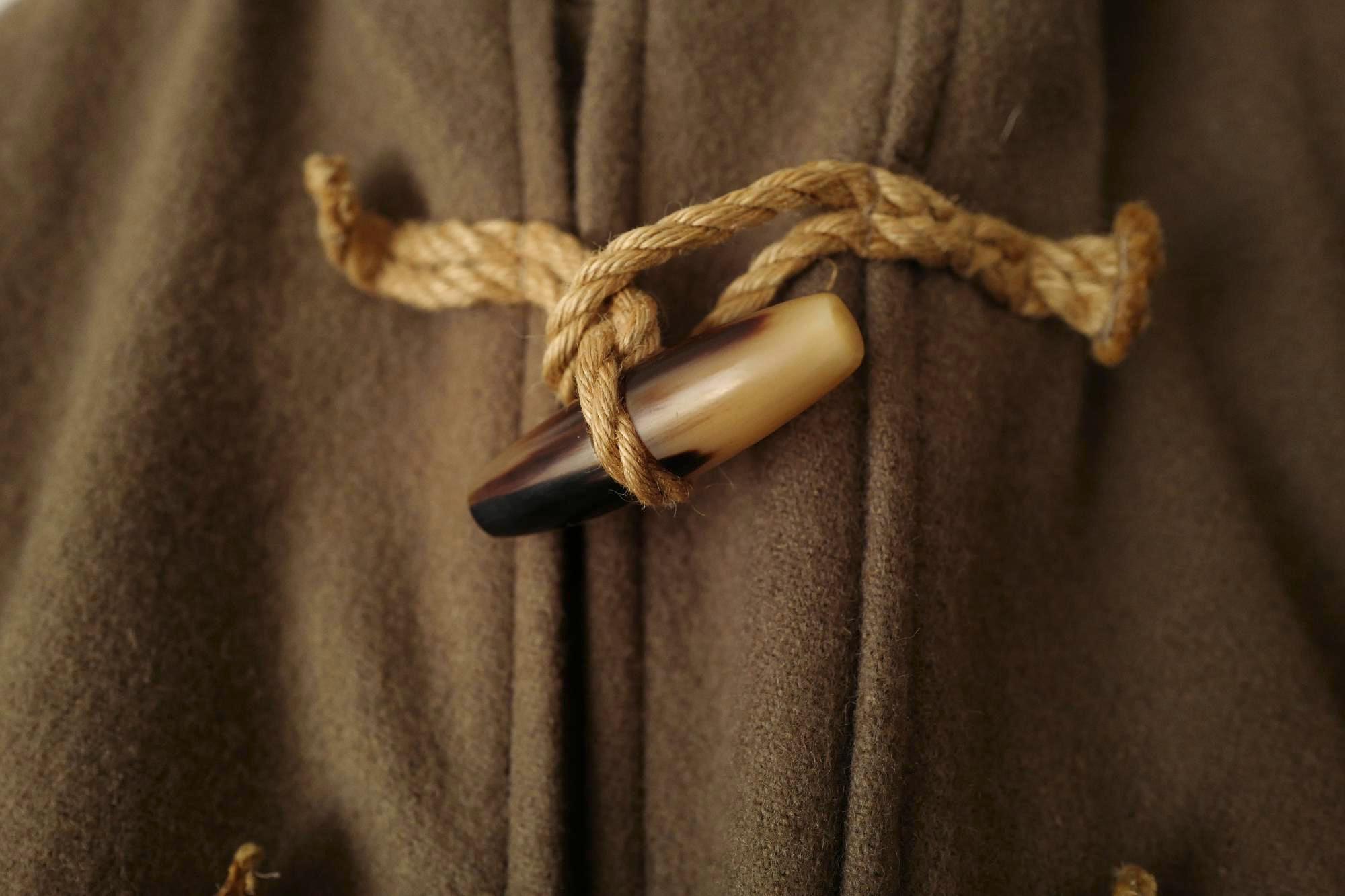 Duffle coat is made of soft but thick wool melton with hemp ropes and big horn toggles.
On my restricted knowledge for clothes, you use rare textiles that other labels don't have.
Do you especially order for mills?
About half of our cloth is made to order, and we choose the weight and colour and finish, and the other half is "stock" from the different mills. We always try to design as much as we can, but we also respect the design of the mill, and it is not always best to change an existing cloth when it is already perfect for purpose.
And you order for factories with the textiles from mills.
So, do factories have cases that it's difficult to create garments with your "special" due to the thickness or hardness?
Yes, all the time. Sometimes the yarn is very tough, such as in the weatherproof ripstop, and is difficult to cut with scissors. It blunts them. Other times, the cloth is very hard and is tricky to manipulate and shape under a sewing machine. This is the case with canopy cotton. We are lucky to work with understanding and determined manufacturers, who are willing to work hard to achieve a good result no matter the difficulty.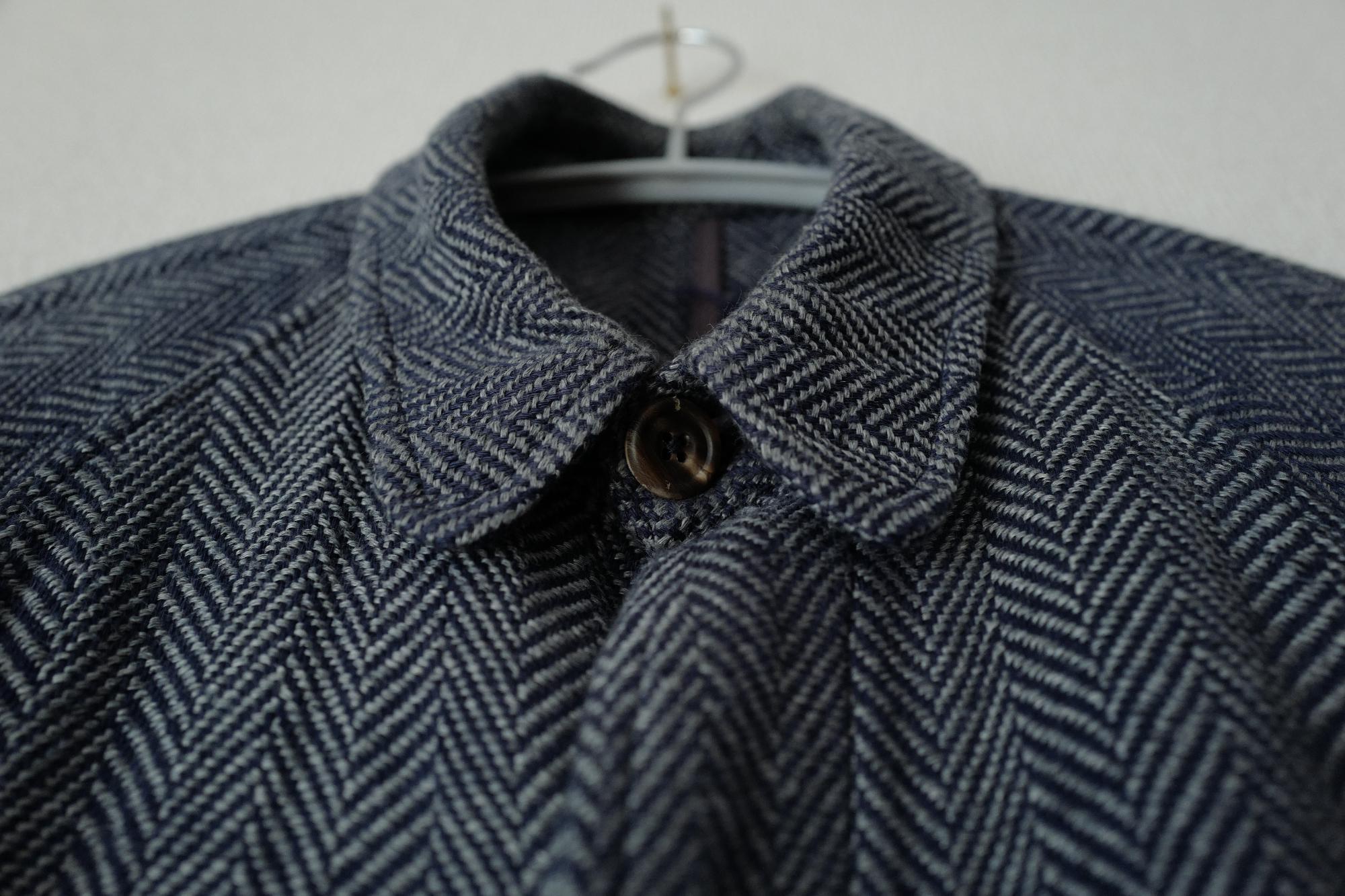 Overshirt in linen herringbone pattern. It's quite thick as no one can't recognise what fabric uses.
I have my one-side belief that you use only natural fabrics, so I was surprised that you released the garments of synthetic fibre.
Do you stock these modern functional textiles?
We don't have an ethos of using only natural fabrics. We like traditional, high-quality materials, hence why the bulk of our collection uses cotton or linen or woollens. However, we have also used very old fibres like hemp, and very new ones like Kevlar. If it is made in this country to a very good standard, then we will always consider it. It is the same with components: we use natural materials such as cow horn, but also brass, which is man-made.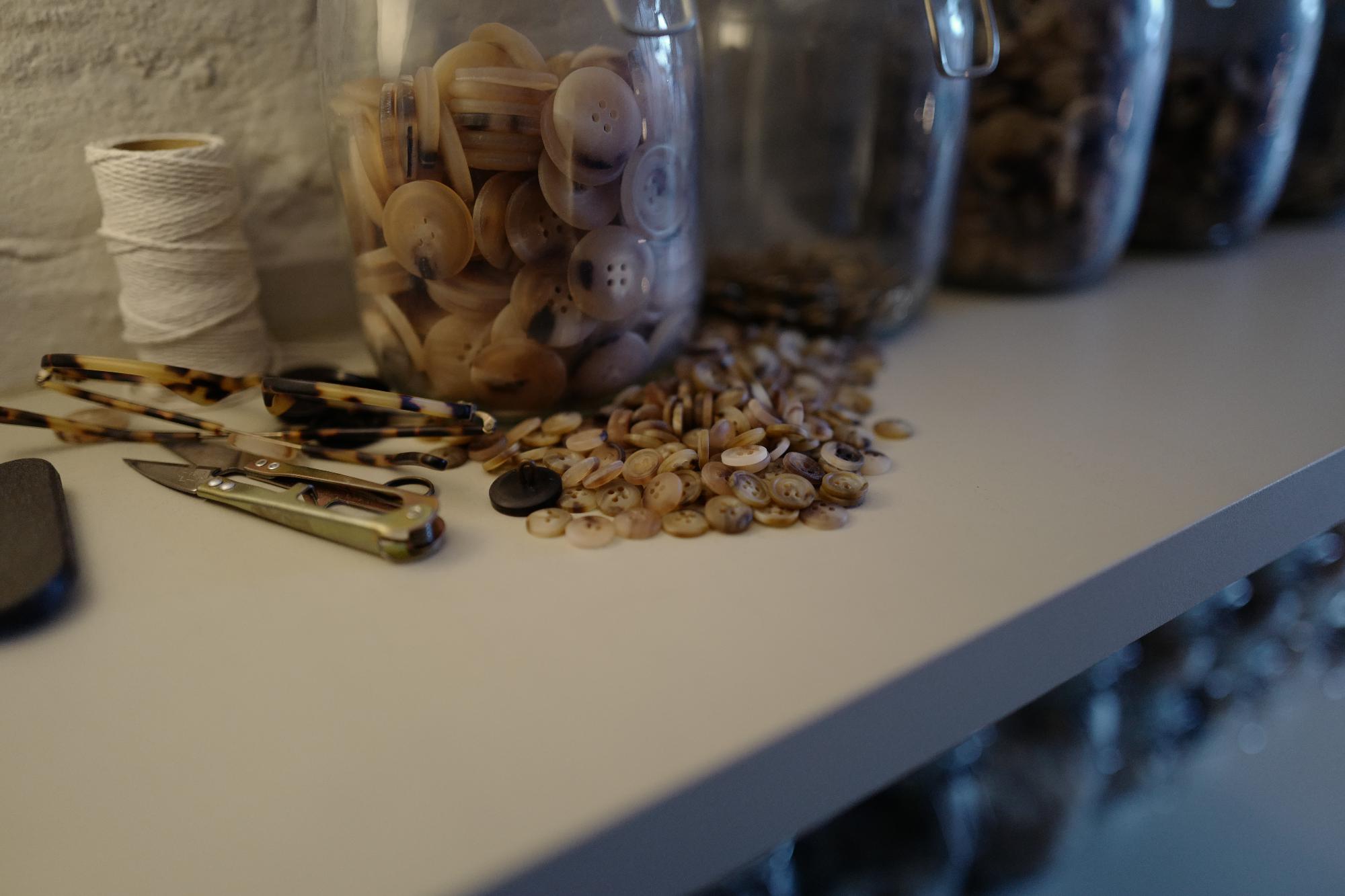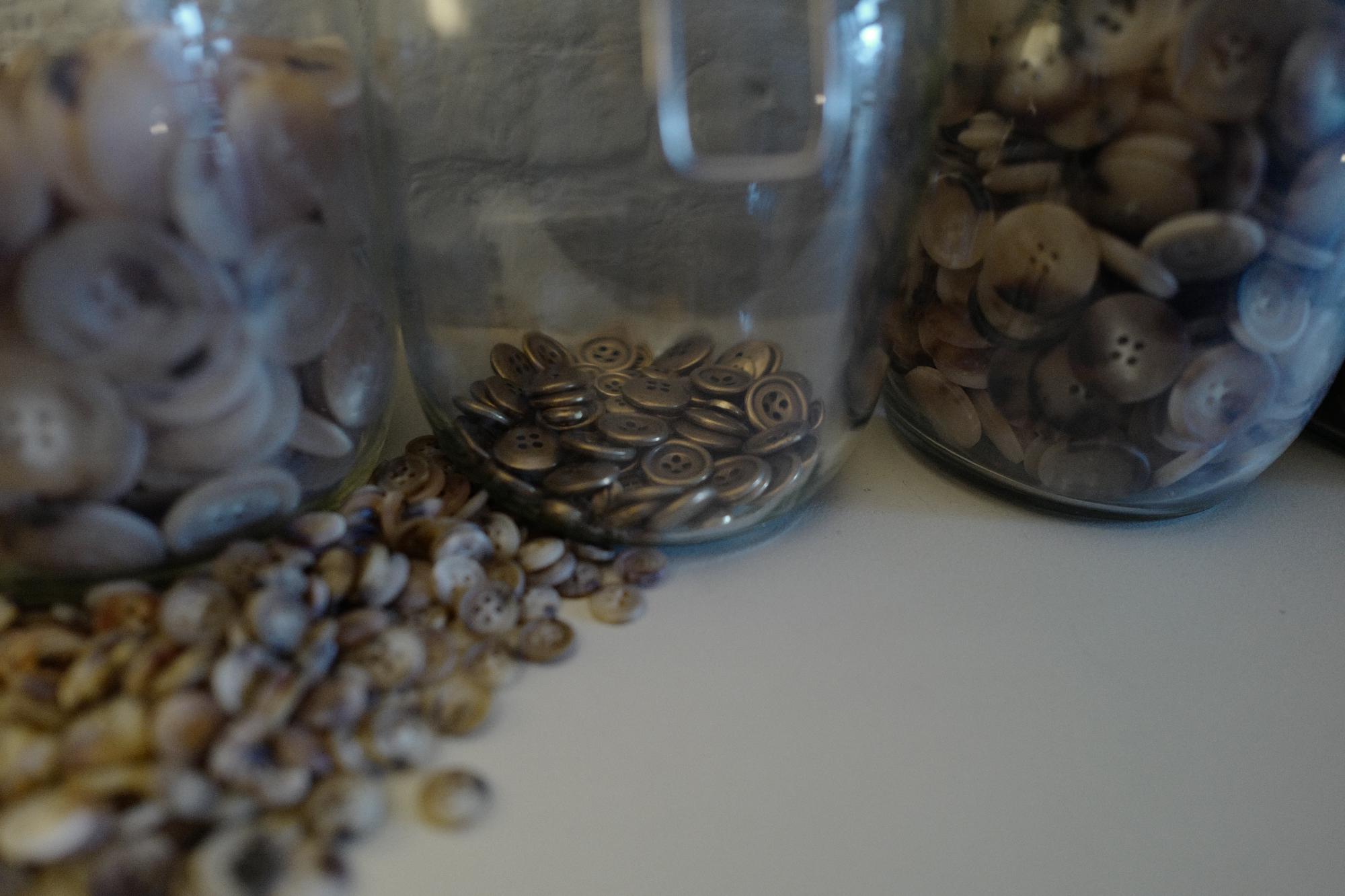 Ms. Sara, who has experienced in Savile row, so do you have a plan to begin made-to-measure service?
No, there is no plan for that. We are designers, not tailors, and are happy to stay as we are.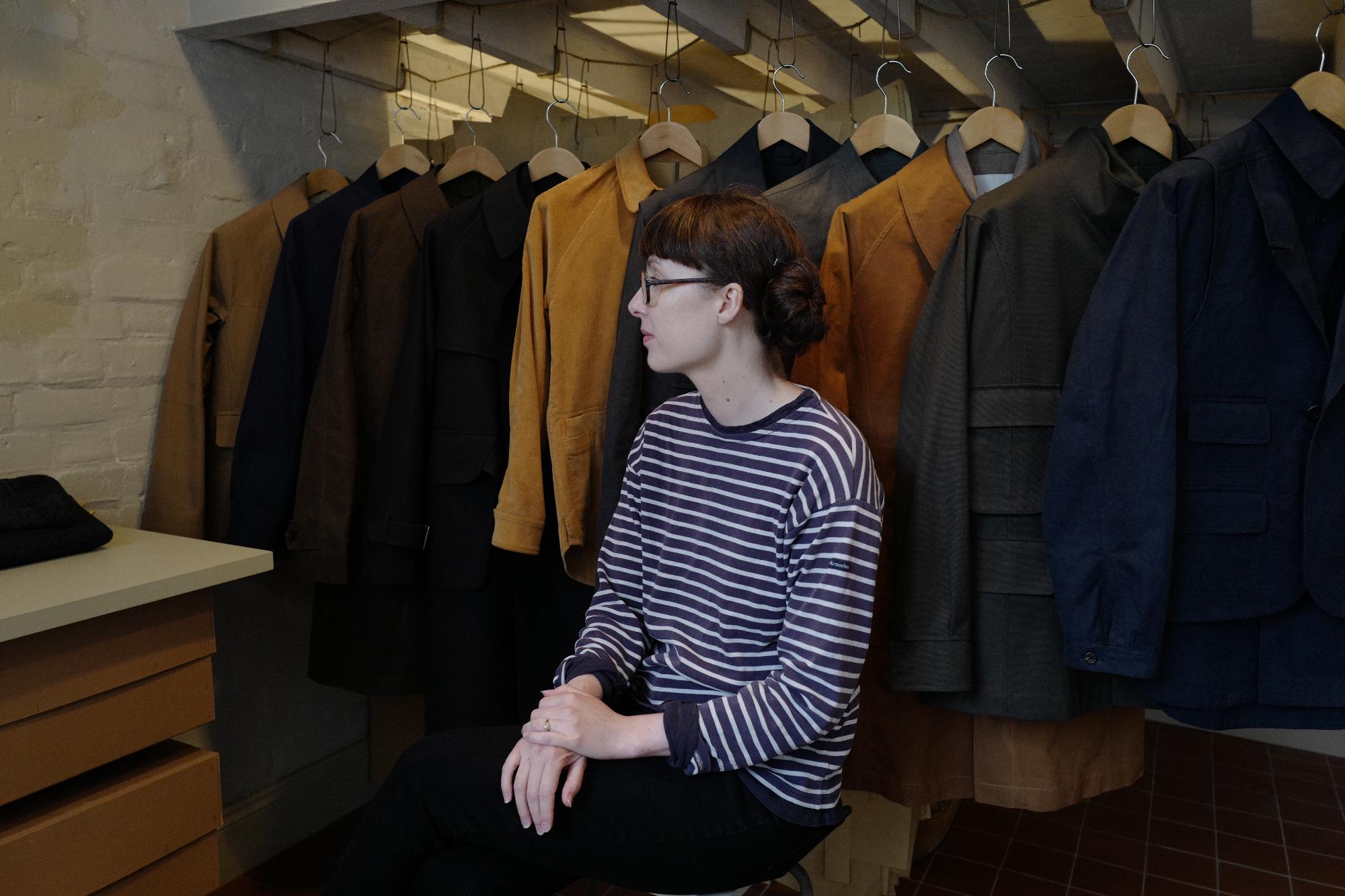 Ms. Sara, who is also the founder and designer from Wales.
I think your price level is a little bit low as the quality of garments, is it adequate?
We are happy with the price. We try to keep it accessible. It is one of the founding tenets of our company: to make a good product in the UK at a fair price. To some it is much too low and to some much too high: this will always be the case, as everyone has a different perspective.
This shirt is made of soft, smooth wool. It's beautiful drapes, great warmth and comfortable lightness to wear.
What people do visit your workshop?
Locals, tourists, bloggers; the old and young. Some find us on an American blog or forum, others in a Japanese magazine, others because their friend told them about the workshop. It is a big variety. We seldom get people walking in from the street because it is quite hard to find, and we don't advertise or promote it as a shop.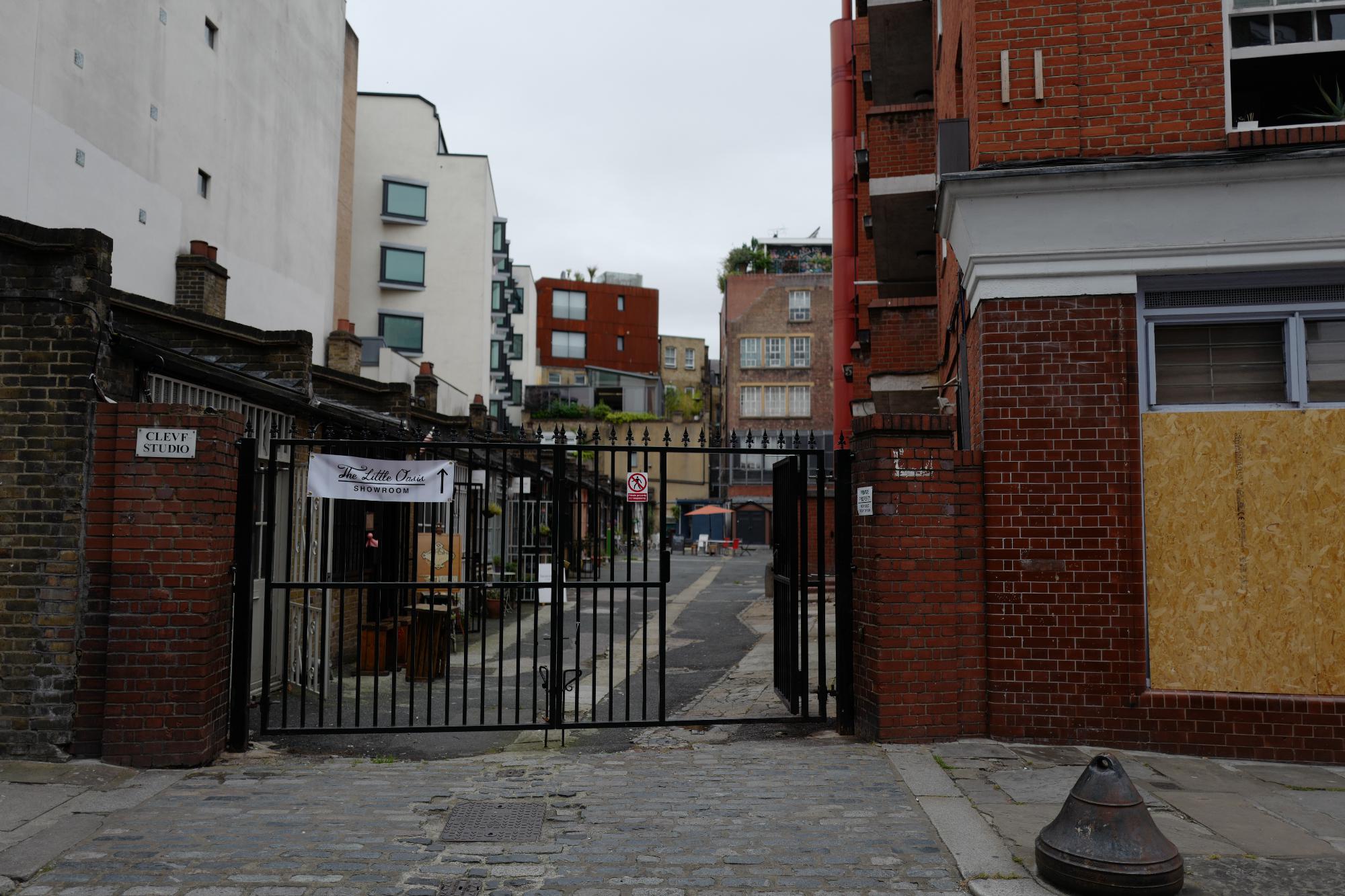 A small dead end on Boundary St., Hackney, London.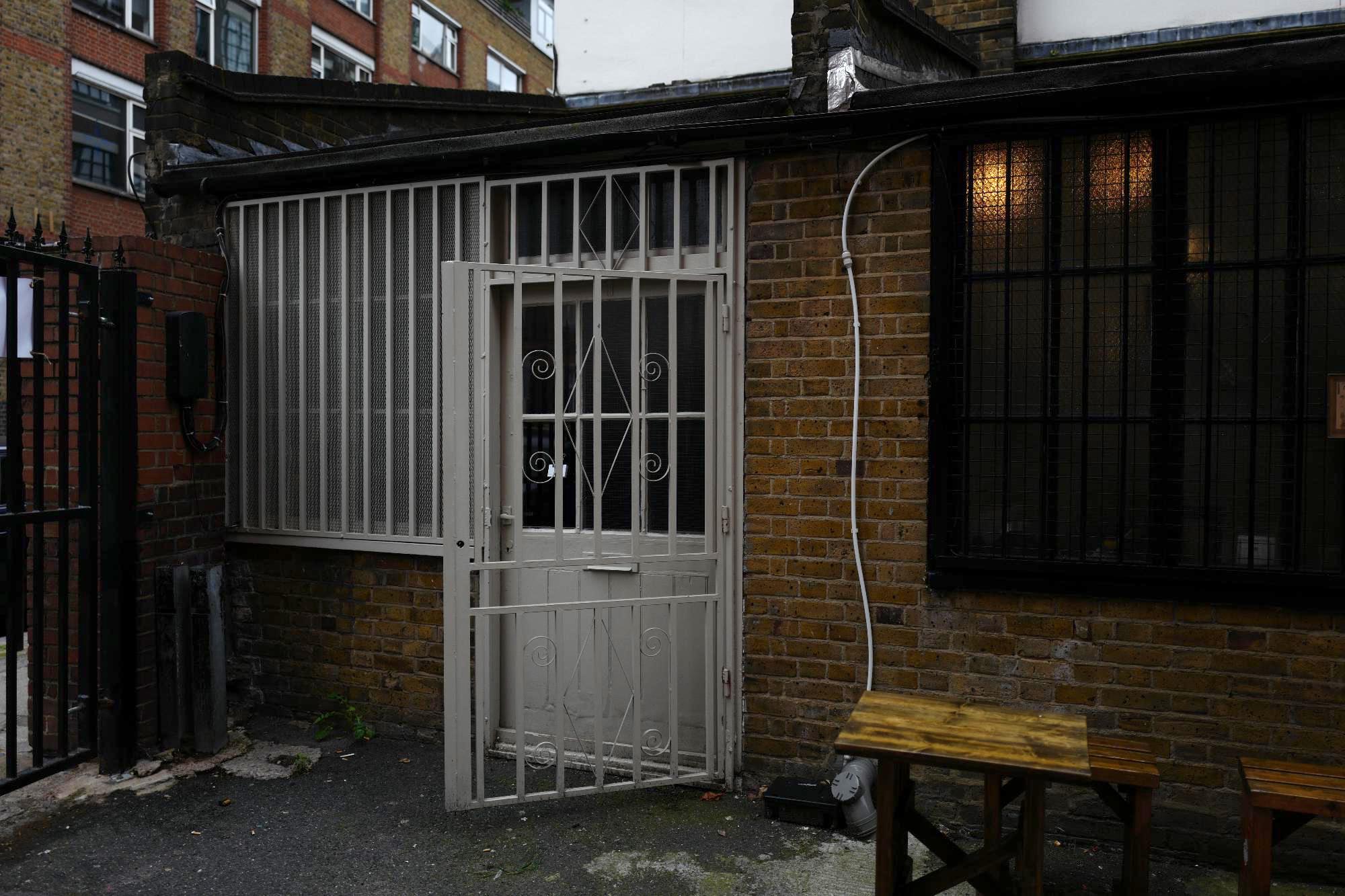 The workshop. The day I visited there where was officially closed.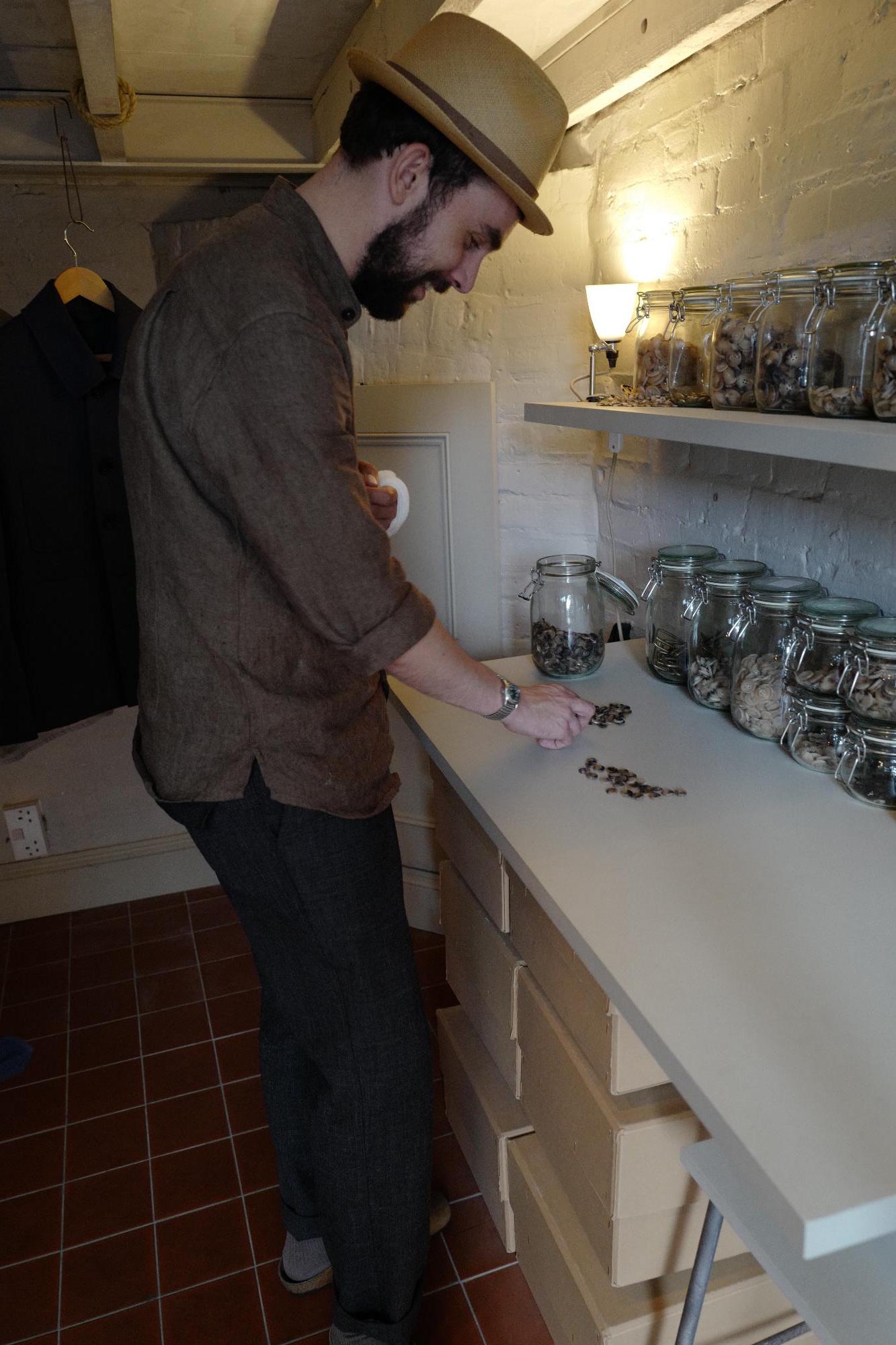 The shop is quite small for a 6-foot person. But you don't have to worry, he can keep service up to eight persons!
If Brexit executes actually, what affect your work?
I hope not. We do not expect any great change, good or bad, to our business irrespective of what happens with Brexit. But the national economy is always changing, the world keeps on turning, and there will be many factors beyond our control that blow our business this way or that.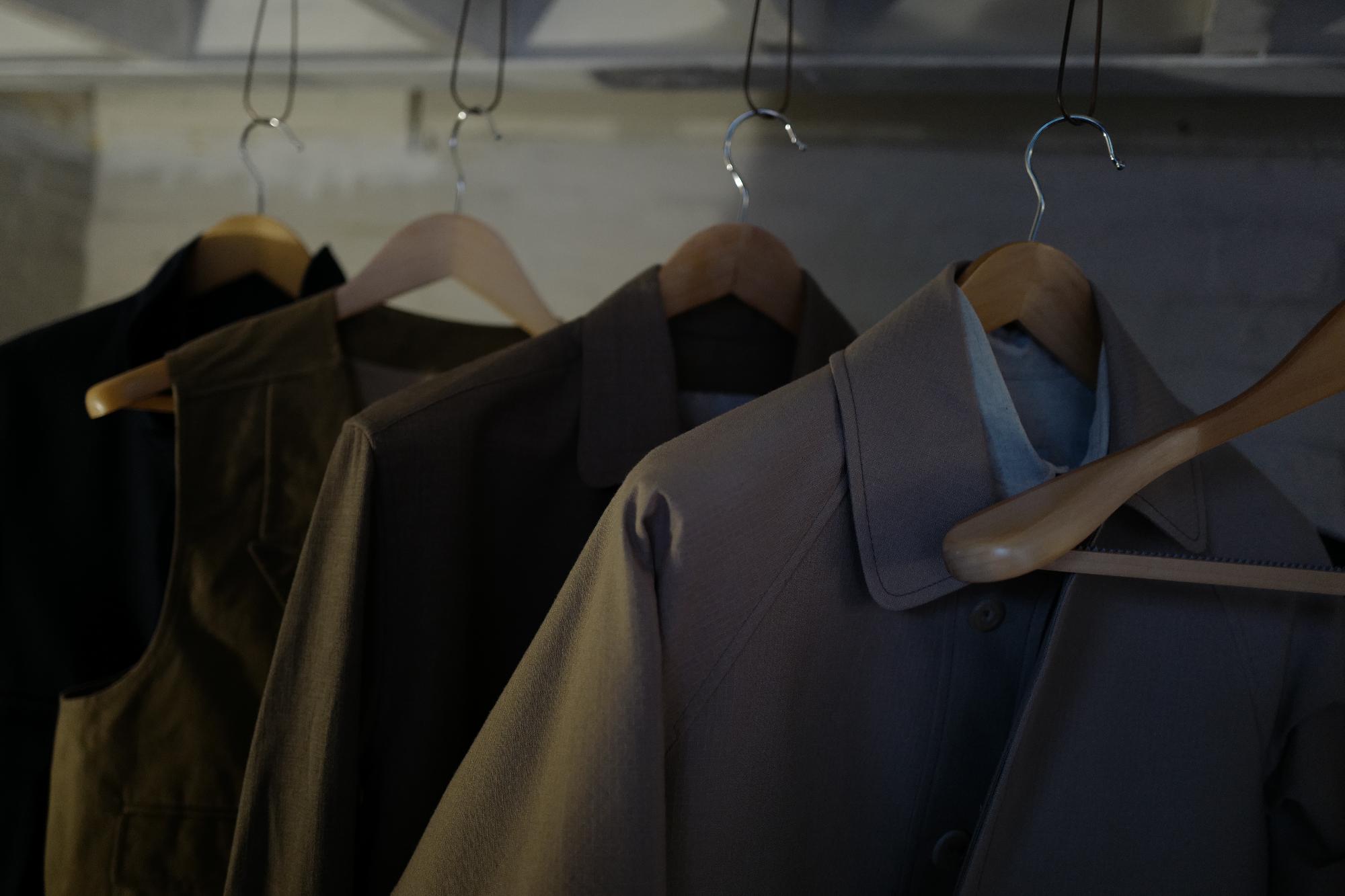 Do you have any mistakes in your work from the founding era?
Not really. We move slowly and carefully. We have no funding so make every decision very carefully. Perhaps the mistake is to move so slowly?
What are satisfying moments in your work?
When an idea comes together, when it is being developed, and when it is being shared with the world. We enjoy creative development most of all — especially when it leads to a strong result.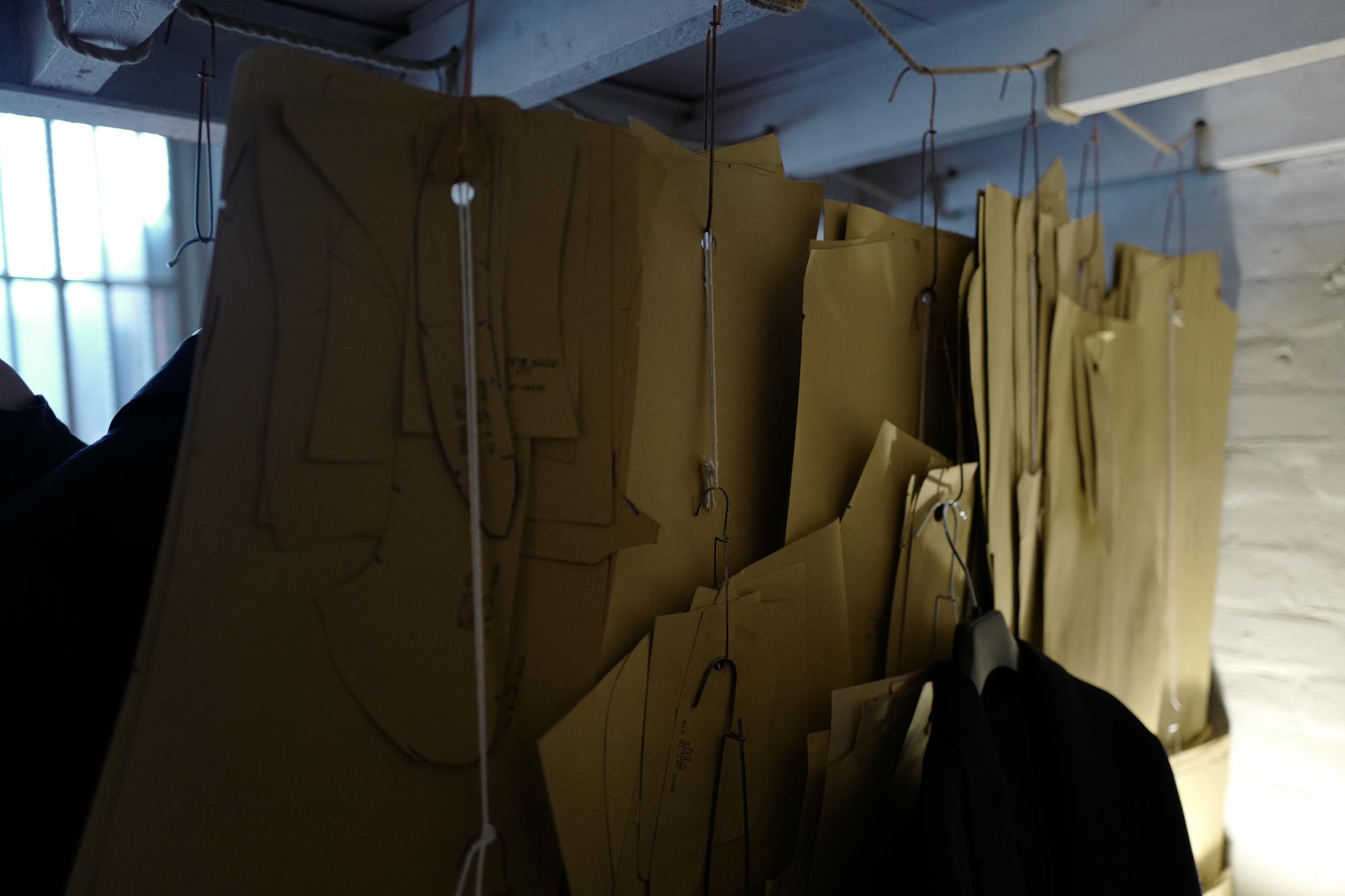 In recent years, the heatwave sometimes attacks isle in Summer. It's a hard time for clothing companies. It has a limit of the range, whatever the textile be lighter or cut the sleeve/length of garments.
How do you think about it?
We are lucky to have customers all around the world, so we don't worry too much about local weather. However, I wish to make clothes that work well for me, so I think we will develop more summer styles for next year: this summer has been quite hot, and some of our cloth and style selection has been too heavy for everyday wear.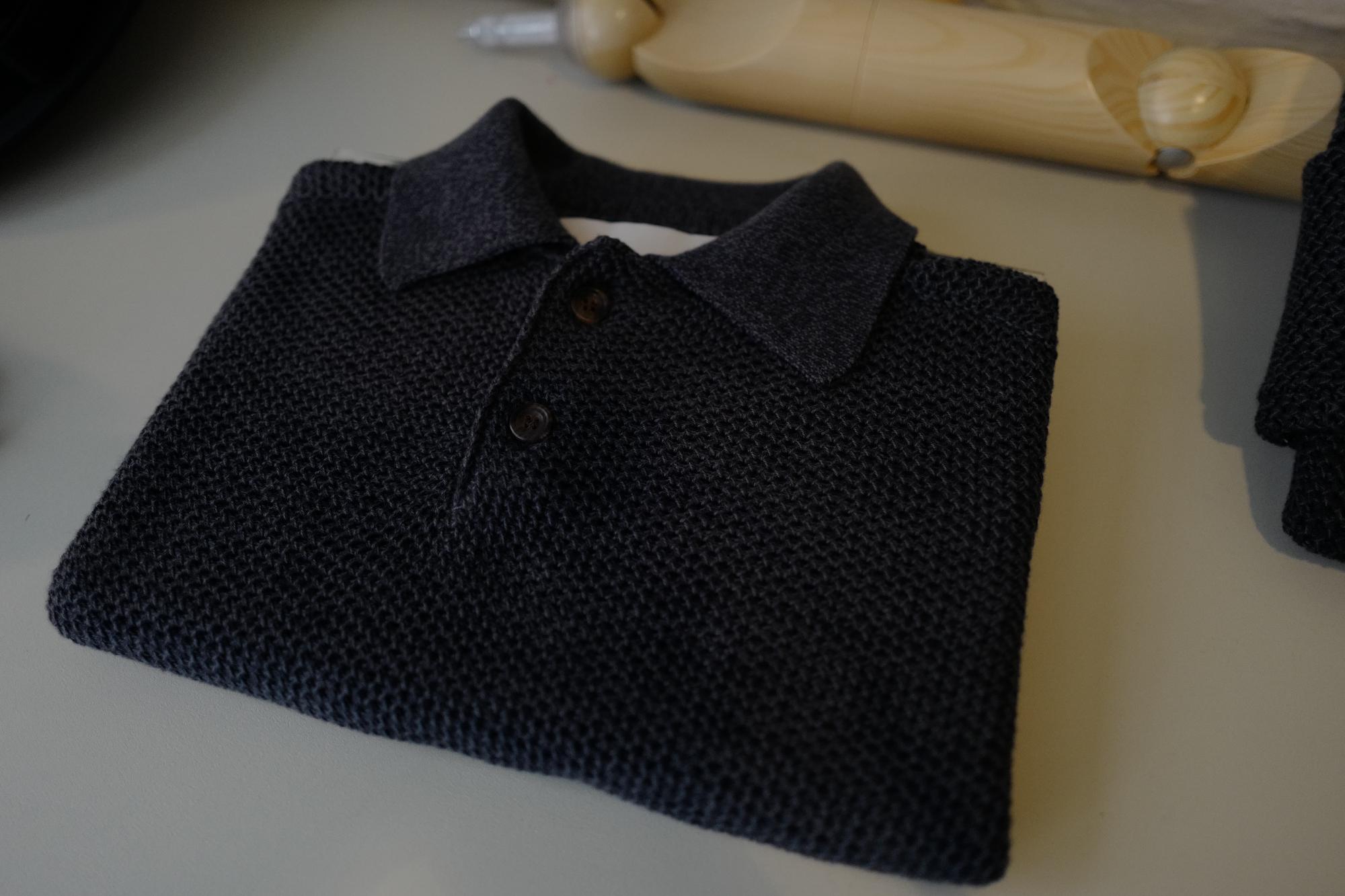 Do you have the plan to restart sales for Japanese retails and any other countries?
No. We prefer to work directly with our individual customers, and my motto in general is that it is best to buy from the maker than the middleman.
It sounds great. You got good customers all around the world.
What does change the progress of sales when you have some stockists?
We prefer to work independently of stockists, so that we can go at our own pace and schedule. We can make now garments "as and when" — which was always our method, when we started, but became muddled with making seasonal collections when we worked closely with stockists. Both have their benefits and weaknesses, but going slowly and non-seasonally suits our small business and character much better.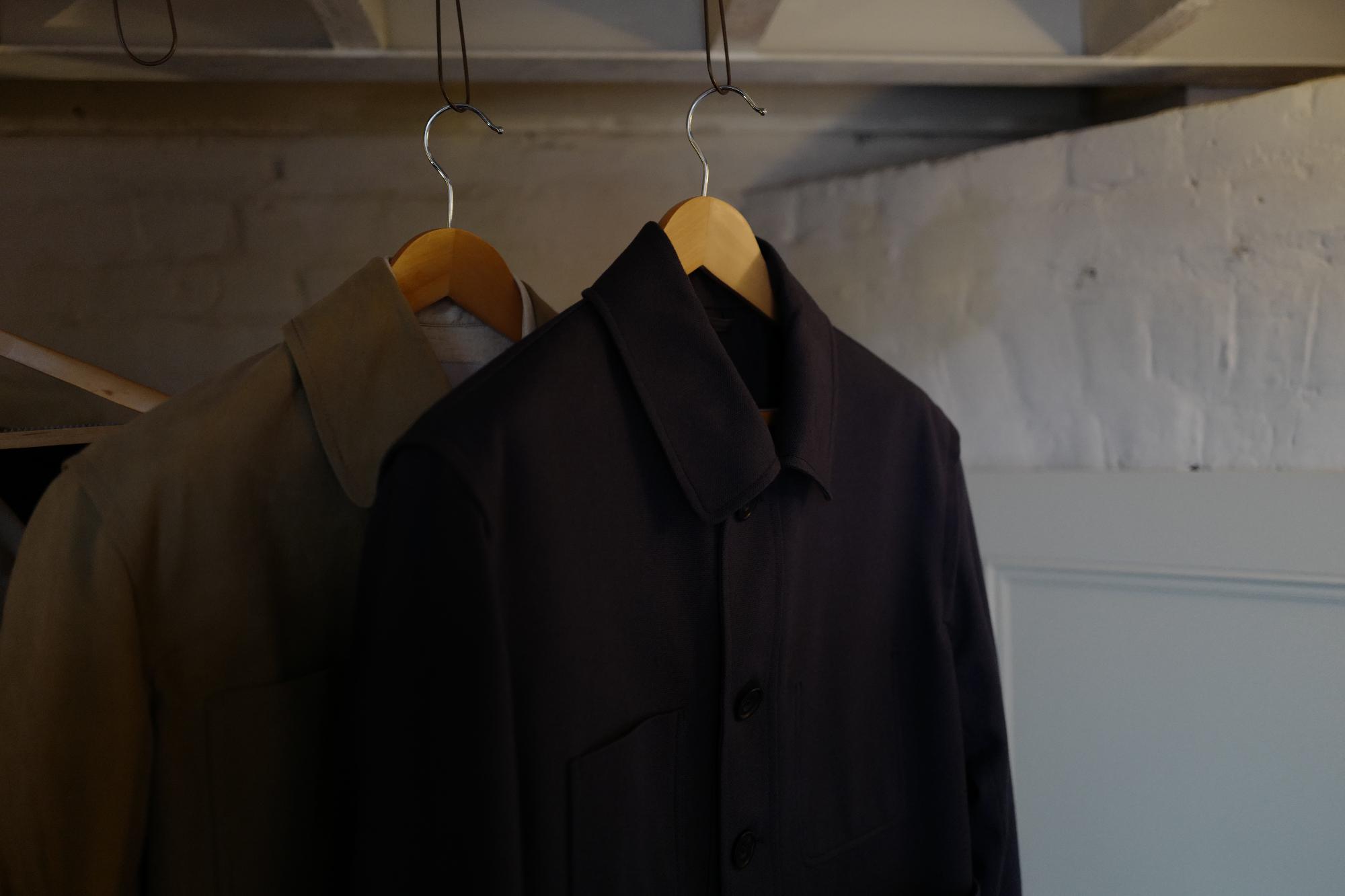 What item(category: shirt, coat…) do you recommend for a customer who doesn't know a lot about your work?
I think the key pieces are the shirt (any) and trench coat and work jacket. They show a range of different styles and functions, but are hopefully unified by proportion and design motifs such as the shape of collar or pocket. I hope this is true of all our styles, in truth, but those three spring first to mind.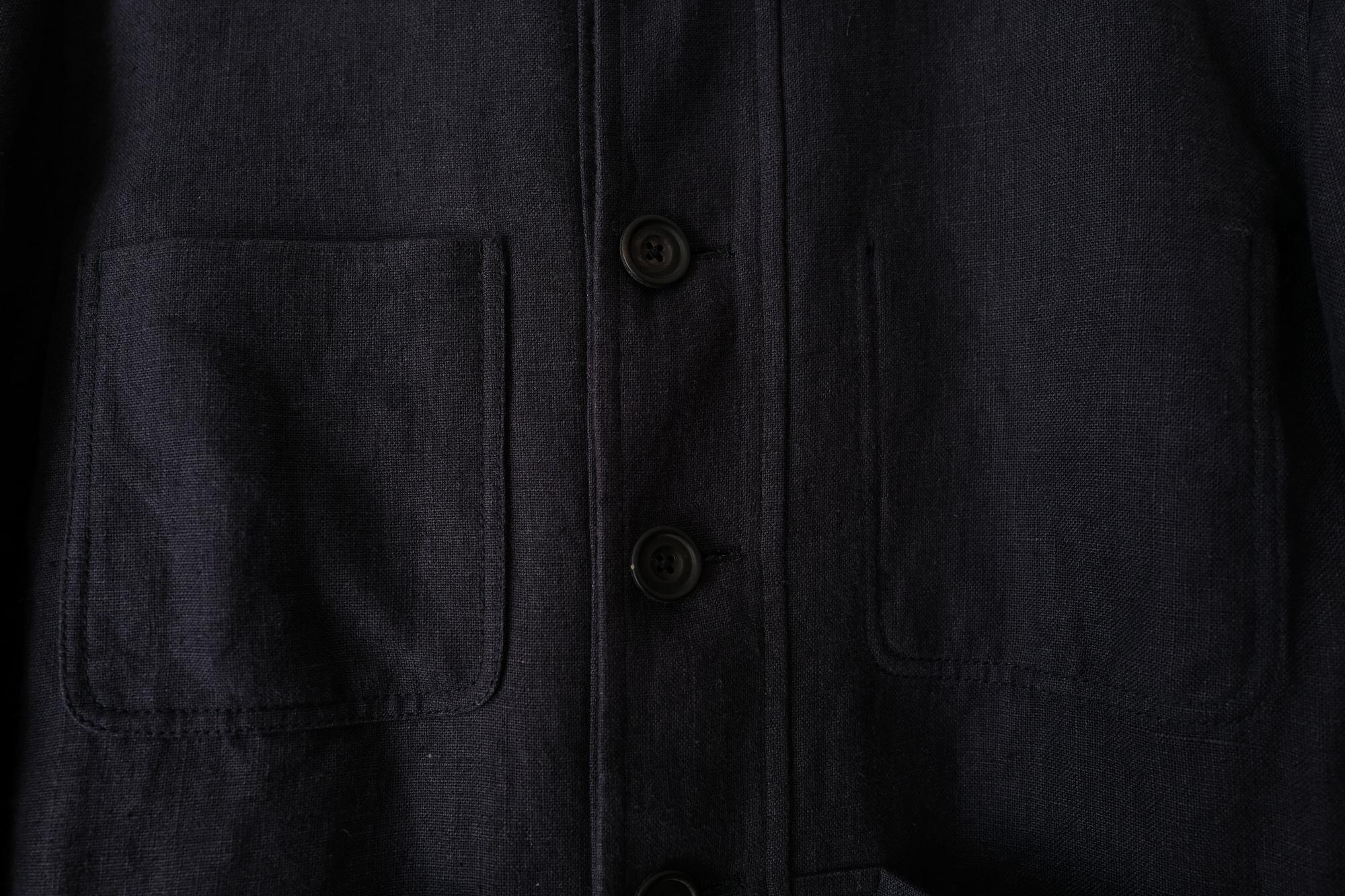 Work jacket in heavy linen. Their garments tend to haveing many pockets with not interfering the design.
This "Kelly Collar Shirt" is made of thick corduroy. And it's their symbol design.
Do you have any plans to tackle in the near future? Is it a secret?
No plans other than to continue what we are doing now — if we are lucky! We love what we do and are very content to keep things exactly as they are, but hopefully improving as designers.
Their attitude and philosophy don't change, although the way of sales alters, and their collection increases with "updating" details of each item slowly but surely in this decade. They always open their thought, progress of developing garments and answer whatever you wonder for instance, how long a shirt shrinks kindly. In online. Check below.